Hollywood's foreign booty: New 'Pirates' film earned over $250 million abroad
Foreign audiences paid a quarter-billion dollars to see 'Pirates of the Caribbean: On Stranger Tides' on opening weekend, but the American box office didn't reach $100 million. How Hollywood is changing to appeal to international filmgoers.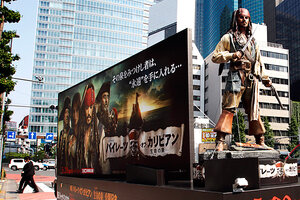 Shizuo Kambayashi/AP
The boffo overseas box office for "Pirates of the Caribbean: On Stranger Tides" – which pulled in more than a quarter-billion dollars in its first week of foreign release – underlines the growing importance of the markets outside US borders.
This is the biggest foreign opening weekend in movie history, according to studio figures.
International markets have always been a piece of the pie – but in the past 25 years, it's grown from a quarter of the pie to nearly 70 percent. Another shift: movies used to open domestically before heading out for distant shores. But in the past few years, Hollywood has begun plying its wares in such far-flung places as China, Russia, and India before the films even bow in their own backyard.
"The international marketplace is vitally important," says Paul Dergarabedian, box office expert for Hollywood.com. He points out that, with economies developing in more than a hundred nations around the globe, studios will tailor their product to those diverse audiences more than ever.
---