Census Bureau: Hispanics account for half of US population growth
The Hispanic population grew 43 percent from 2000 through 2010, four times faster than the growth rate for the US as a whole, the US Census Bureau said Thursday. Much of that was in the South.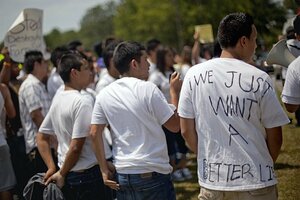 David Goldman/AP
The US Census Bureau reported Thursday that the Hispanic population rose by 15.2 million between 2000 and 2010, accounting for more than half of the nation's population increase of 27.3 million.
Put another way, the Hispanic population grew by 43 percent – four times America's overall 9.7 percent growth rate and much more than the non-Hispanic white population, which grew by barely more than 1 percent over the same period.
Details about US population growth come as legal and political issues swirl around illegal immigration, which focuses largely on Hispanics crossing the border into the United States.
Also on Thursday, the US Supreme Court on a 5-to-3 vote upheld an Arizona law that revokes the business licenses of companies that hire illegal immigrants.
The high court also approved Arizona's requirement that employers must use the federal E-Verify system, which uses Social Security numbers to confirm that workers may be legally employed. (The federal program itself is voluntary.)
---