What's at stake in Google's plan to digitize all the world's books
Google, publishers, and authors asked a judge for another 60 days Wednesday to hammer out a deal to make Google Books a reality. The agreement could shape the nascent industry.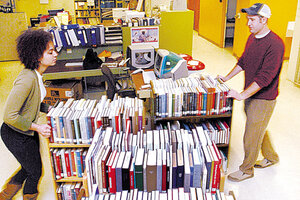 Newscom/File
Google's long-running effort to digitize the world's books was back in court Wednesday, as a judge met with the Internet giant and its class-action foes in the publishing world over a scheme that could shape the future of publishing in the Internet era.
Earlier this year, Google thought it had struck a deal with the Authors' Guild and a coalition of publishers over how it would proceed with its plan, which it began in 2002 and publishers had challenged in court in three years later. But in March, both Circuit Judge Denny Chin and the antitrust arm of the US Department of Justice rejected the deal, saying it would give Google a virtual monopoly in many aspects of online publishing.
At stake are the rules that will govern the nascent online publishing industry and how it might evolve. Critics want some assurance that Google Books won't put authors out of business by making everything available online for free. Some authors and publishers, by contrast, see Google Books as an invaluable – and potentially profitable – way to keep obscure and out-of-print books vital and available.
For Judge Chin and the Justice Department regulators, however, Google's bid to scan, post, and profit from millions of out-of-print books with unclear copyright claims – so called "unclaimed" or "orphan" books – runs the risk of running roughshod over an industry that is only now beginning to find its feet.
As Chin put it in March: The deal "would give Google a de facto monopoly over unclaimed works" as well as "a significant advantage over competitors, rewarding it for engaging in wholesale copying of copyrighted works without permission."
The path ahead
---