Why it's so hard to win the war against US oxycodone epidemic
Oxycodone dispensers are protected. Abusers are hard to ID. And the drug claims more lives than cocaine, heroin, meth.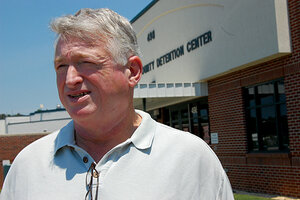 Patrik Jonsson/The Christian Science Monitor
In the "war on drugs," Phil Price has battled crack, methamphetamine, heroin, and pot. But the newest drug epidemic – abuse of prescription opioid painkillers – has the narcotics agent reassessing his role in policing America's hunger for illicit highs.
As head of the narcotics squad in Cherokee County in Georgia, Mr. Price has ordered his 14 agents to shift focus from meth labs and Mexican drug gangs to eyeing vans full of average Joes in search of prescriptions for a legal, but habit-forming and potentially deadly, fix: oxycodone. A pharmaceutical form of heroin, the drug is now a top seller, with 100 million prescriptions written over the past 15 years – the equivalent of 1 bottle of pills for every 3 Americans.
But fighting oxycodone abuse – an epidemic that now results in millions of overdoses and at least 11,000 deaths annually – has unique and vexing challenges.
For one, the drug is not illegal. But there are right ways and wrong ways to dispense it, though regulations vary from state to state. Large-scale dispensers, whom Price calls "drug dealers with MDs," are protected, to a point, by federal law and by powerful medical and pharmaceutical lobbies. For another, it's increasingly difficult to identify abusers. They range from retirees to high school girls, and many attempt to "doctor shop" to find a fix.
"It's far more complex than any other drug epidemic I've seen," says Price. "What it all boils down to is a societal issue, not a law enforcement issue. I don't know how we can keep everybody from doing harm to themselves."
---