Forget the pirates and newbie X-men: This summer is all about the small films
Though the summer movie slate includes a record 27 prequels, sequels, and spinoffs, it it still shaping up to be a great year for smaller, specialty films, say experts.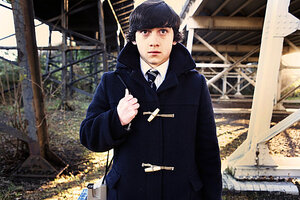 Dean Rogers / The Weinstein Company / AP
This year's franchise-laden summer movie slate – with a record 27 sequels, prequels, and spinoffs – casts a mighty shadow over the warm-weather filmgoing landscape.
But despite the presence of every popcorn fave from X-Men to Harry Potter and Pirates of the Caribbean, there are some signs that small films – which make up three-quarters of theatrical films in any given year – just might be on track to get some sunshine of their own.
Consider this past weekend's performance of such high-toned films as Terence Malick's "Tree of Life" and Woody Allen's "Midnight in Paris." While both opened in only a handful of theaters, each placed in the top 12 on a per-screen box office basis, says Paul Dergarabedian, a box office expert with Hollywood.com.
"It looks like we are on track to have a very good summer for the specialty films," says Mr. Dergarabedian, noting that while blockbusters tend to sell themselves, "these smaller, specialty films rely heavily on critical reviews."
Many in the film industry were wringing their hands not even a month ago as box office returns dropped 20 percent from the previous year. But in a few short weeks, particularly bolstered by the strongest Memorial Day weekend box office in movie history – some $280 million – the box office take has rebounded to surpass the same period in 2010.
---