Did revamp of 'Spider-Man' musical do enough to save itself?
'Spider-Man: Turn Off the Dark' debuted on Broadway Tuesday. It was a revamped version of the unfinished show critics panned in February.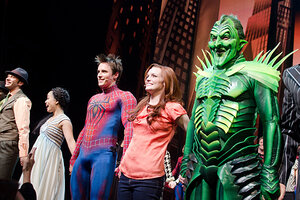 Charles Sykes/AP
Now that the Broadway megamusical, "Spider-Man: Turn Off the Dark," finally officially opened Tuesday night, the question is in: Can it beat the bad reviews that just won't go away? The New York Times calls it a "bore." The Wall Street Journal dubs it "witless." The Hollywood Reporter tags it a "bloated monster."
To critics, the musical, with its outsize reliance on flying stunts, is just another example of the dumbing down of the Great White Way. To "Spider-Man" fans who bristle at that treatment, the show is simply getting the same upturned noses from the high-brow crowd that all comic book fare does.
In its record 183 preview shows – fully staged dry runs before the "official" opening – "Spider Man" has done steady business since November. While not selling out, it has taken in roughly $1.2 million weekly, according to the Broadway League. Fan response has also been good.
But $1.2 million a week is barely more than the reported weekly expenses for the logistical behemoth. While the musical could maintain its theater run with such a fragile margin, it would take decades – if ever – to recoup the estimated $75 million budget that went into the show's creation, more than double the price tag of any previous Broadway show.
In such perilous economic times, "when you see people abusing money this way, it really opens up the gates to criticism," says Vincent Zurzolo, a pop culture expert at Metropolis Collectibles in Manhattan.
---