'Green Lantern' is opening. Does it appeal only to white American males?
As movies bring classic comic books to the screen, some critics say they are mining the genre's early period, which featured less diversity than it does now. 'Green Lantern' is a case in point.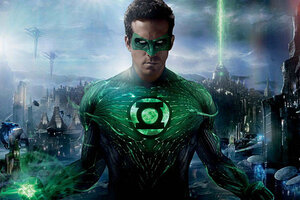 Warner Bros. Pictures/AP
When "Green Lantern" – the latest in this summer's heavy slate of super-hero films – opens this weekend, fans of the lesser-known but iconic DC action figure are eager to see if he will catch on.
But, as movies continue to mine classic comic books, some critics suggest they are going retro in more ways than one, returning to the genre's early weak spots: a lack of diversity and an overwhelming emphasis on white American male power fantasies.
"Hollywood often continues to use a white American male as its default lead character and assumes that viewers of all demographics will be able to identify with him," says Amy Corbin, assistant professor of art and film studies at Muhlenberg College in Allentown, Penn.
The white male becomes the "universal" character who is supposedly compelling for everyone – while when women and people of color play the leads, those films are often assumed to be "niche" films that will only attract a viewing demographic that matches the lead character," she adds via email.
The Green Lantern origin myth pushes this particular bias further than most in the super hero canon, says comic book expert Julian Chambliss, who teaches history at Rollins College in Winter Park, Florida. In the Green Lantern mythology, the latest wearer of the ring of power is chosen by the ring itself, specifically for the wearer's strength of will and ability to overcome fear.
---