Father's Day 2011: Are men on verge of a manhood crisis?
On a variety of fronts, fatherhood, manhood, and even boyhood seem to be under strain or attack. On Father's Day 2011, maybe the guys could use an extra hug of appreciation.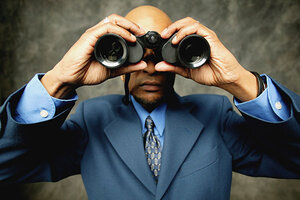 Darren Greenwood/Design Pics/Newscom
Father's Day is here, providing a moment for millions of American males to feel appreciated – and they can use it.
On a variety of fronts it seems that fatherhood, manhood, and even boyhood are under strain or attack, beset by changes in the economy and society.
Among the signs:
•Jobs traditionally held by blue-collar men have been disappearing or becoming less secure. The recession of 2007-to-2009, aptly dubbed a "man-cession," accelerated the trend, leaving the unemployment rate for men today at 9.5 percent, versus 8.5 percent for women. In about 1 in 4 married-couple homes the wife is the main breadwinner.
•Women are outperforming men in schools and universities. Among the population 25 to 29, some 36 percent of women have a bachelor's degree or more, compared with 28 percent of men, the Census Bureau reported recently.
•Social changes, from the rise of sperm banks to the growing prominence of women in US culture (look out Mitt, Michele Bachmann is gaining), may be adding to a sense of male anxiety. No one argues against women's rights, but it may have grown tougher for men to define their distinctive value.
•Challenges for males start early on, with higher rates of things like emotional disturbance or falling behind their peers in school.
Of course, the notion of widespread male anxiety shouldn't be exaggerated. The reality is also that millions of men and fathers are successful and secure, esteemed by themselves as well as by their wives and kids. And they still retain the competitive edge in hiring and promotion and earnings, in certain occupations.
---