Write stuff: The workshop that shapes American literature
The Iowa Writers' Workshop, on its 75th anniversary, offers a window into the state of American letters.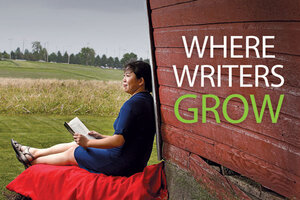 Tony Avelar photo/John Kehe illustration
For Sena Jeter, it was a photo – one of a poet running a program at the University of Iowa called The Writers' Workshop.
The caption told her this workshop did something incredible: grant graduate degrees for writing poems and stories.
She sent in a story, got accepted, and took the train north from Alabama, knowing she would need a job to support herself.
The poet, Paul Engle, asked her how much money she had.
"Five hundred dollars."
"I need a research assistant," Mr. Engle said. He hired her.
For Jim Tate, it was advice. He wanted to be a poet. He'd gone to a small college in Pittsburg, as in Pittsburg, Kan. There were no poets at his college. But two fiction writers there said he could find some at Iowa.
He drove to Iowa City, told a woman in the workshop office that he wanted to go there and had brought along some poetry.
"Have you applied?"
"No."
She called Don Justice, one of the poetry teachers. He dropped what he was doing and read through Mr. Tate's samples. Finally, he looked up.
"Yeah, you can go here."
It was the summer of 1965 – just before the country would explode in a bitter decade of antiwar protests, drugs, and untrammeled sex that would change the country. The program that accepted them would change their lives.
---