Americans' confidence in news media finally sees uptick, poll shows
Television news saw the biggest boost in public confidence this year, a new Gallup poll shows. Newspapers, too, rose a bit in Americans' esteem. Is the news more interesting to people now?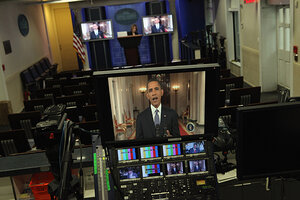 Chip Somodevilla/CNP-PHOTOlink/Newscom
Americans' confidence in the news media – which hit bottom in 2007 and has stayed low – revived a bit this year for both newspapers and television news.
A recent Gallup poll showed that 28 percent of Americans expressed "a great deal" or "quite a lot" of confidence in newspapers – a jump of three percentage points from the previous year. Confidence in TV news rose five percentage points to 27 percent.
"While the improvement for each is small in absolute terms, it could mark the beginning of the reversal of the trend seen in recent years," reported Lymari Morales of Gallup. The poll, conducted in early June, is part of Gallup's annual update on public confidence in institutions.
The uptick in confidence could be a result of people's ability to more easily find news that interests them, says Joshua Benton, director of the Nieman Journalism Lab at Harvard University in Cambridge, Mass.
"Your interests were never in perfect alignment with your local newspaper, but that's the nature of the medium," Mr. Benton says. Now, "the Web enables much more customization." People now see the news as something they can talk back to and relate to, he adds.
In 1990, 39 percent of Americans reported having "a great deal" of confidence in newspapers. That share sank to an all-time low in 2007, when just 22 percent of the public had that level of confidence. Television news received 46 percent confidence in 1993 among Americans, but it similarly dropped to a nadir of 23 percent in 2007.
---