What to do for Social Media Day? Get connected!
June 30 marks the second annual Social Media Day. It is organized, naturally, via social media to celebrate the revolution in the way humanity communicates. Here's how to join in.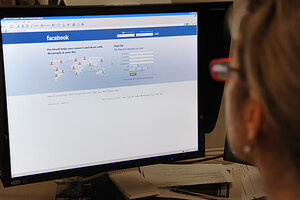 Karen Bleier/AFP/Newscom/File
Linda Sherman says her mission is to bring social media – with all its high-tech instantaneous urgency – to rural, laid-back Kauai, Hawaii.
To Ms. Sherman, a social media marketing consultant, it's all about being a part of the wider world – and having a voice in it. "You really should be on social media so you can bring your voice to the rest of the world," she says. "I'm trying to tell [the islanders] that if they can make a little noise on social media, people will remember them."
Sherman is one of the people in 1,400 cities who are celebrating Social Media Day on Thursday, in recognition of the way the interconnected cyberworld is changing the real world. It's hard to argue against the fact that social media is revolutionizing how people relate to one another, reuniting high school classmates, connecting friends and family worldwide, discussing news, and allowing the average citizen to report on pivotal events, as seen via Twitter from the streets of Cairo during the revolution earlier this year.
Social media "is one of the most profound revolutions in the history of humanity," says Paul Levinson, communications and media studies professor at Fordham University and author of the book "New New Media." "It's hard for us to sometimes realize that something happening before our very eyes is changing the very nature of how we live in the present and how we will live in the very future."
---