Michigan shootings highlight power of smartphones, shortcomings of social media
A police standoff Thursday with a suspect in seven fatal shootings in Grand Rapids, Mich., shows how smartphone apps for police scanners are giving citizens a new mobile window on crime fighting.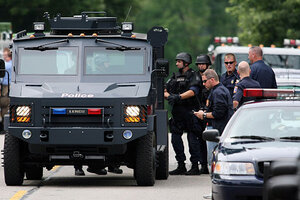 The Grand Rapids Press, Cory Morse/AP
The man suspected of killing seven people, engaging police in a shootout in Grand Rapids, Mich., and a car chase had holed up in a house in Stephanie Sicard's neighborhood.
He had hostages. He was demanding Gatorade.
Ms. Sicard, a college student, sat enthralled, listening on her iPhone to the 5-0 Radio Police Scanner application that was giving her pieces of information unavailable through mainstream media.
The tragedy Thursday in Grand Rapids shows how smartphone applications, many free or costing a few dollars, are giving citizens a mobile window on police crime fighting. It also highlights how social media such as Twitter, can be a first – and often poor – source of information.
Rodrick Shonte Dantzler, who was suspected in the murder of seven people including two children, engaged police in a gunfight in Grand Rapids before leading them on a car chase, reported the Chicago Tribune.
Mr. Dantzler crashed his car in a ditch then fled on foot. He forced his way into a house in northeast Grand Rapids, taking three hostages.
After an eight-hour standoff, Dantzler shot himself fatally and the hostages escaped.
---