What next for Harry Potter fans? More Harry Potter, of course.
There won't be any more books or films after 'Harry Potter and the Deathly Hallows: Part 2,' so Potterheads are set to fill the void by reading Harry Potter again and again, as well as participating in the thriving online community.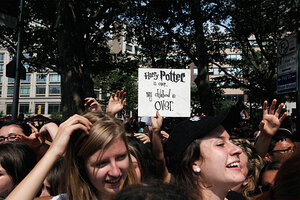 Lucas Jackson/REUTERS
As the final film in the record-breaking, Harry Potter franchise opens Friday in the US, the great and obvious question that looms over a generation is: What now?
With no new book or film to anticipate, librarians and movie marketers have their own answers – hoping that the franchise can become a gateway to new books or other films targeting the same audience. For some, it might. But the answer that rises from the heart of the true Potter devotee appears to be be simpler. They will go back to the books – and the websites they have spawned – again and again.
"What we find is when the kids finish reading the last book or go see the latest movie, they go back and start reading the series again," says Susan Ei, Pequot Library children's librarian in Southport, Conn. "We may have a lot of great recommendations for what else they could read, but," she says with a laugh, "my 16-year-old daughter has read the books at least 70 times."
In some respects, the books' continued vitality is a function of the online community that has given fans more ways than ever to remain within the Harry Potter narrative. Websites such as the Leaky Cauldron and MuggleNet offer podcasts, articles on themes and plot points, as well as fan fictions.
---