Is US a nation of liars? Casey Anthony isn't the only one.
Recent court cases – from Casey Anthony to Roger Clemens to Atlanta school teachers – may point to a prevalence of lying and cheating in US culture. Has America's moral compass gone haywire?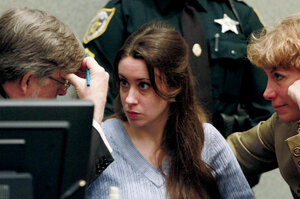 Joe Burbank/AP
In court cases, witnesses pledge to tell "the truth, the whole truth, and nothing but the truth." In Judeo-Christian tradition, there's the Ninth Commandment – "thou shalt not bear false witness." Most parents admonish their children to be honest.
But as the news fills with one example after another of people – both humble and mighty – telling lies, it's easy to wonder: Can America even see the truth anymore, let alone tell it?
Consider an array of recent examples:
•In the trial for Casey Anthony, who was charged with killing her 2-year-old daughter, the prosecution and defense agreed that Ms. Anthony had told numerous lies while her daughter was missing. In the end, the jury reached a verdict that cleared her of all charges – except those about giving false information to law enforcement officers.
•In Atlanta, investigators have named 178 teachers and principals who allegedly changed student test answers to collect bonuses and make their schools look good. More than half the teachers, the investigators' report said, lied about or attempted to cover up their malfeasance.
•The sexual assault allegations against Dominique Strauss-Kahn, the former International Monetary Fund chief, started falling apart after prosecutors concluded that the alleged victim, an immigrant from Guinea, lied about a past rape allegation and falsified immigration papers.
•In June, New York Rep. Anthony Weiner resigned from Congress after admitting that he hadn't been truthful about an embarrassing Twitter photo.
---