How Comic-Con went from geek to Hollywood megabucks
Comic-Con in San Diego is much more than a comic book convention now. In the age of social media, Hollywood has taken note of how much influence attendees can have.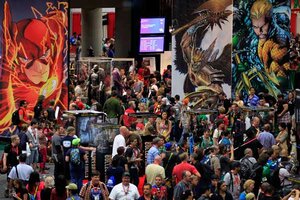 Mike Blake/REUTERS
One of the cooler towns in the nation is bracing to be Hollywood's hottest spot this weekend. The sea-breeze-cooled San Diego Convention Center is hosting some 125,000 fans for Comic-Con. For four days, this international convention will be the global heart of everything related to comic-book lore.
These days, however, that means much, much more than teens hauling out their cardboard boxes of vintage Superman editions and trading with a few hundred pals. In the past five years, Hollywood has moved in, transforming an insider's backwater gathering into a multimillion-dollar celebration of comic-book geek chic.
This weekend, no less entertainment luminaries than Steven Spielberg and Joss Wheedon (of "Buffy the Vampire Slayer" fame) will join a slew of other top film and TV studio executives, directors, writers, and actors to promote upcoming projects. Their incentive: free buzz from core fans.
"They are young, they are plugged in, and they know how to spread the word," says Erik Davis, managing editor at movies.com, speaking from his cellphone as he makes his way over to the convention floor.
The convention began to draw the big studios as social media took off, he says, adding that the big movie projects typically work on a year to a year-and-a-half lead time. This year, 2012 action movies such as "The Avengers" and the latest "Spider-Man" sequel are featured films.
---