Recovering US job market is leaving black men behind
The unemployment rate for black men stands at 17 percent, more than double that of white men. An education gap, criminal records, and racial bias all contribute to problems in the job market, experts say. What type of intervention would help?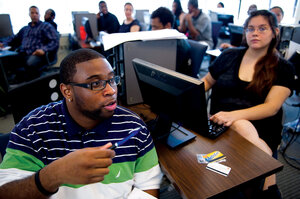 Ann Hermes/Staff
The jobs landscape is bleak for any unemployed American, but for black men it's virtually a desert.
For them, the Great Recession not only led to the largest increase in unemployment for any category of American worker, but it also is pinching a lot longer. About 1 in 6 black men over age 20 in the labor force is jobless – and that number has barely improved since the economic recovery officially began two years ago.
In Detroit, Las Vegas, Milwaukee, Min­neap­olis-St. Paul, and several other US cities, Depression-era unemployment rates above 20 percent beset the black community, estimates one economic policy group, citing government data. Moreover, the problem may get worse because city governments, which traditionally employ many African-American men, are laying off workers to cope with budget shortfalls, say experts on black employment.
The change has been dramatic. The jobless rate, 7.5 percent in prerecession days, is now 17 percent – more than double the rate for white men. The ramifications are dramatic: a slide out of the middle class; greater dependence on public assistance; new strain on families, including the challenge of meeting mortgage or child-support payments; and more homelessness.
US Rep. Emanuel Cleaver (D) of Mis­souri, chairman of the Congressional Black Caucus, sees a long-term travesty for the whole nation if intervention is not redoubled to address the scourge of black unemployment. "The failure of this nation to address this problem will lead to another 25 years of problems in this country based on race," he says in a phone interview. "We ignore this crisis at our national peril – on the agenda are poverty, medical problems, crime, you name it."
---