Muslim Americans are optimistic despite discrimination, new poll says
Muslim Americans are loyal to the US and positive about their future even as they face high levels of discrimination, a Gallup poll finds.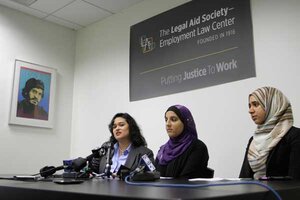 Eric Risberg/AP
A poll released Tuesday revealed curious contradictions in the Muslim-American community, which is more enthused about its country and president than any other religious group, yet is the least politically active and faces the greatest discrimination.
The Gallup poll on American religious groups offers a counterpoint to the stereotype that Muslims in the US lead isolated lives because they do not feel comfortable fitting in or associating with mainstream American culture. Moreover, it also offers insights into the Muslim-American experience – from how dramatically the election of President Obama affected them to how little they trust the activists who work on their behalf.
In total, the poll paints a picture of a community characterized by optimism but still seeking acceptance among its fellow citizens.
For instance, 93 percent of Muslim Americans say they are loyal to America. They have the highest confidence in the integrity of US elections (57 percent), and they are the most hopeful about their lives over the next five years, compared with other groups.
Yet 48 percent of Muslim Americans report they experienced some kind of racial or religious discrimination, a finding that places them far ahead of Protestants, Catholics, Jews, Mormons, and atheists/agnostics.
One reason for the optimistic outlook despite discrimination could be that Muslim Americans see their financial fortunes improving. Some 64 percent of Muslim Americans in 2011 reported their standard of living got better, compared with 46 percent in 2008.
But the presidency of Mr. Obama has arguably had an even more powerful affect on Muslim Americans. Muslim Americans give him the highest approval rating – 80 percent – of any religious group. American Jews are a distant second, giving Obama a 65 percent approval rating.
---