As Anonymous threatens BART, stakes rise in feud over cell service cutoff
Hackivist group Anonymous targets BART website, as retaliation for the Bay Area transit agency's cutoff of cellphone service to some passengers on Aug. 11. BART acted to stymie a protest at a subway station, which was being organized via social media.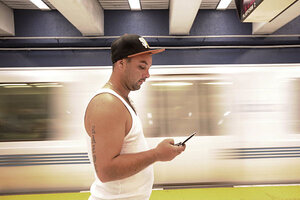 Noah Berger/AP
Will BART do it again?
That's the question hanging in the temperate San Francisco air as criticism piles on the Bay Area Rapid Transit system for cutting off cellphone service to some passengers in a bid to thwart an Aug. 11 anti-BART protest being coordinated via mobile devices.
Protesters are set to try again to assemble at a downtown BART station, at the height of Monday's evening commute , almost daring BART to repeat the service cutoff. On Sunday, the international hacker group Anonymous threatened to shut down BART's website for six hours in retaliation for the transit agency's action.
If anything, BART's move to preempt the Aug. 11 demonstration has raised the stakes. The original protest was centered on the death of a homeless man, shot by BART police last month during an altercation at a subway station. But Monday's event has broadened to encompass what BART many critics call censorship, overreach, and tactics akin to those used by Egyptian President Hosni Mubarak as he tried to cling to power amid the Arab Spring uprising.
At the heart of the latest feud is whether the threat to public safety stemming from the protests justifies BART's cutoff of cellphone service to try to disrupt them. It's a question vexing authorities concerned about use of social media and services such as BlackBerry Messenger to organize "flash mob" crimes or, as in England last week, violent street riots.
---