Indiana State Fair: Memorial service re-opens state fair after stage collapse (VIDEO)
The Indiana State Fair re-opened Monday morning with a memorial service, honoring the five victims who lost their lives and dozens more who were injured following Saturday night's stage collapse.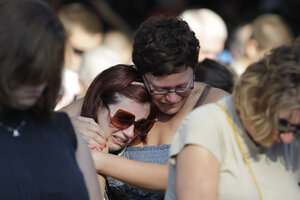 Darron Cummings/AP
Victims of Saturday night's stage collapse at the Indiana State Fair in Indianapolis were remembered Monday morning during a memorial service at the state fairgrounds.
About 300 people, including Indiana Gov. Mitch Daniels and other city and state officials, attended the memorial service.
"We come today with hearts that are broken, but hearts that are full," Governor Daniels told the crowd, his voice cracking at times as he praised those who rushed to the stage to help the injured.
"Our hearts are with you. My heart is full for those who acted in courageous ways. … There was a hero every 10 feet on Saturday night. I cannot tell you how proud I am to be the employee of six and half million people like that."
Five people were killed Saturday night and more than three dozen were injured as a result of stage rigging, lights, and sound equipment crashing to the ground after strong winds hit the State Fair Grandstand area.
---