Philadelphia 'flash mobs': black mayor takes aim at black community
The crackdown on 'flash mobs' by Philadelphia Mayor Michael Nutter has put him in the center of a debate about how black leaders should respond to violence within their own community.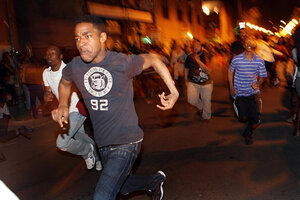 Laurence Kesterson/The Philadelphia Inquirer/AP/File
As violent mobs of young men continued to wreak havoc in Philadelphia for a second summer in a row, Mayor Michael Nutter has taken a hard line against the roving "flash mobs," tightening weekend curfews, endorsing stiff "stop-and-frisk" polices, and blasting the mostly black teenagers involved in the violence with fiery words from the pulpit this weekend.
About 50 teenagers were arrested Friday for violating the newly enforced weekend curfew. It is aimed at cracking down on mobs of young people responsible for random attacks on people and property.
The mayor's crackdown has placed him in the center of a simmering debate about how black community leaders should respond to violence within their own community. On one side are those who admire the mayor's take-no-prisoners rhetorical style and use of police force, while others say this approach lets the mayor off the hook for failing to address the needs of young black Philadelphians.
In a combative speech on Sunday at Mount Carmel Baptist Church in Philadelphia, Mayor Nutter said that young black men have to stop acting like "sperm donors" and "human ATMs." He admonished parents for failing to supervise and expect good behavior from their children. And he directly implicated habits and styles of some young black men in the city.
"If you walk into somebody's office with your hair uncombed and a pick in the back, and your shoes untied and your pants half-down, tattoos up and down your arms and on your neck, and you wonder why somebody won't hire you?" Nutter told the congregation "They don't hire you 'cause you look like you're crazy. You have damaged your own race."
---