BART backs off tactic of cutting cellphone service to thwart protests
After taking heat from the ACLU and being hacked by Anonymous for shutting down cellphone service to four stations last week, the Bay Area's BART kept cell service on during Monday protests.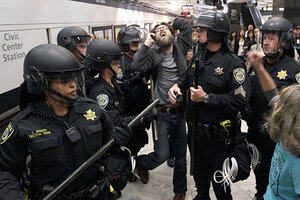 Jeff Chiu/AP
Officials at Bay Area Rapid Transit (BART) decided Monday that cutting cellphone service to thwart another planned protest would cause more trouble than the protests themselves. Instead, four stations were temporarily closed, creating a chaotic rush-hour commute.
About 50 activists protesting two BART police shootings managed to disrupt local train service Monday evening as transit officials closed several central stations to commuter travel. Before the protests began, protesters held cellphones to their ears and loudly said, "Can you hear me now?" Unlike last Thursday evening, this time they could.
Despite the presence of officers dressed in riot gear, no arrests were made.
The decision by BART to briefly cut cellphone service at four stations last Thursday drew widespread criticism by free speech advocates, a promised lawsuit by the ACLU, and a hack of a BART website by the online activist collective Anonymous, which posted personal information of thousands of BART website users on a separate website this weekend in retaliation.
After meeting with BART officials Monday, the ACLU said it won't file a lawsuit over last week's service disruption. The transit agency took that step out of concern that the planned protest would become violent, as did an earlier protest, on July 11, held to condemn the shooting of a homeless man by BART police. The civil liberties group said, however, it is disappointed that BART left the door open to future cell service disruptions. The Federal Communications Commission has opened an investigation into whether BART broke federal law by turning off four agency-owned cellphone transponders last Thursday.
---