700 cats seized by Humane Society in Florida: the aftermath
700 cats at a sanctuary in Alachua County, Florida were seized by the Humane Society. Since then the cats have been treated and debate has circled the Lefkowitzes, who ran and lived in the home.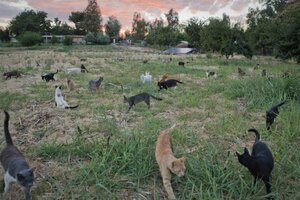 WENN.com/Newscom
On June 7 and 8 The Humane Society of the United States (HSUS) seized some 700 cats from Pennie and Steven Lefkowitz, Alachua County, Florida residents who had established their own cat sanctuary. By the time the HSUS intervened, more than 70 of the animals were determined by veterinarians to be so ill they had to be euthanized, reported the National Examiner.
For a while, the media were relatively quiet about the matter. Perhaps this is because it isn't unusual for so many cats to be found in one cat sanctuary. Feline adoption centers, such as the 'Cat House on the Kings,' safely accommodate the same number of felines as were rescued in Florida.
Plus, instances of animal hoarding are increasingly common. The Examiner tells of an episode in 2007 in which Best Friends Animal Society saved nearly 800 starving and ailing cats from a sanctuary in Pahrump, Nevada. And The Animal Hoarding Project says that approximately 250,000 animals are "victims of animal hoarding every year."
---
Follow Stories Like This
Get the Monitor stories you care about delivered to your inbox.