LivingSocial under fire: Can daily-deal sites keep offering huge discounts?
The hyper-discounts of online coupon dealers like LivingSocial have not created loyal customers. Some businesses are finding that smaller numbers of coupons – and smaller discounts – might be more sustainable in the long run.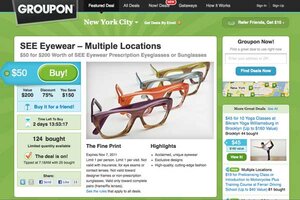 Groupon.com/AP
"Today only, 84 percent off a massage!"
"Half off all garden tools!"
"47 percent off a family photo!"
If you have half a head for an online bargain, pitches like these in the form of e-mails from daily-deal vendors such as Groupon, LivingSocial, and a growing thicket of competitors are welcome messages in your inbox. Many of the sites simply require registration and, bingo, your digital world – from mobile phone to iPad or laptop – can begin to swell daily with invitations to snap up hyper-discounts on everything from personal hygiene to vacations.
But as this burgeoning virtual marketplace has blossomed over the past three years, so has criticism. Some businesses have been so overwhelmed by the sheer volume generated by a mass coupon exchange that they have almost been driven into bankruptcy. Other retailers, most recently movie theater owners, have fretted that the scale of discounts available has begun to train an entire generation away from paying a regular price.
It is, on one hand, part of the learning process for industries from retailers to newspapers, who are realizing how dramatically the online world can reshape their business. To some degree, merchants will simply have to adjust to a world in which consumers have more control.
But some observers say that the experience of recent years suggests that the hyper-discounts for which Groupon has become famous might not last. With such discounts so far not creating loyal customers, businesses are finding that smaller numbers of coupons – and smaller discounts – are better for business in the long run.
Big scale is what allowed this market to explode, says Kevin Wray, vice president of NimbleCommerce, which provides services to help businesses tap into the group-buying trend. But small scale is what's coming next, he adds.
---