Microsoft bids for buzz with Windows 8 beta-tablets. Is iPad vulnerable? (VIDEO)
Analysts say iPad cannot be dethroned, but at a conference in Anaheim, Microsoft showers enthusiastic software developers with Windows 8 beta-tablets. Let the app-writing begin.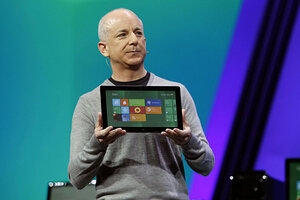 Alex Gallardo/Reuters
Dave Wolf is walking around Anaheim a bit starry-eyed – and it's not because he's headed to Disneyland. The software application executive is in town for the Microsoft BUILD conference for software developers, where he was one of the 5,000 in attendance who had an "Oprah moment" on Monday.
"They gave us all tablets with the new Windows 8 installed," he says, referring to the latest update of the firm's familiar operating system, which came out in a professional preview version on Tuesday. "This is something we've all been waiting for," says Mr. Wolf, vice president of strategy for Cynergy, a software firm.
Indeed, while it may have become the norm for Apple to capture the cultural spotlight for its latest release, it's been a while since Microsoft has garnered that kind of buzz.
But the blogosphere is alive with interest – and the first of these beta-tablets is already for sale on eBay, notes Wolf with a laugh. The big question on everyone's mind is whether this will give the software giant the jump it needs to compete in the consumer marketplace so dominated by Apple products.
Software developers are enthusiastic – good news for Microsoft, which is looking for them to write the applications for the new operating system due out in 2012 – but many analysts are shaking their heads, pointing to Apple's overwhelming lead.
---