Hank Williams Jr. in hot water for comparing Obama to Hitler
Hank Williams Jr saw his Monday Night Football jingle pulled by ESPN. Why? Hank Williams Jr. compared President Obama to Adolf Hitler.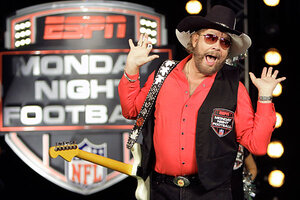 AP Photo/John Raoux, File
Politics, sports, and entertainment can be a volatile blend.
The latest exhibit of this combustable mix occurred Monday when the cable TV sports network ESPN pulled Hank Williams Jr.'s classic intro song from its Monday broadcast of National Football League game after the country singer famous for the line "Are you ready for some football?" used an analogy to Adolf Hitler in discussing President Barack Obama.
In an interview Monday morning on Fox News' "Fox & Friends," Williams, unprompted, said of Obama's outing on the links with House Speaker John Boehner: "It'd be like Hitler playing golf with (Israeli Prime Minister Benjamin) Netanyahu."
Asked to clarify, Williams said, "They're the enemy," adding that by "they" he meant Obama and Vice President Joe Biden.
Anchor Gretchen Carlson later said to him, "You used the name of one of the most hated people in all of the world to describe, I think, the president." Williams replied, "Well, that is true. But I'm telling you like it is."
---