For Jews and Christians, a holiday 'season of rapprochement'
The Hanukkah and Christmas holidays coincide amid a season of Jewish and Christian bridge-building, as evidenced, in part, by a recent surprise bestseller on Amazon.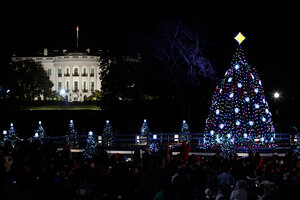 Pablo Martinez Monsivais/AP
This year's Hanukkah and Christmas seasons coincide amid what many scholars and religious figures alike are calling a notable period of reconciliation and bridge-building between Jewish and Christian communities.
"The Jewish Annotated New Testament," written by Jewish scholars and warmly received by top religious scholars and general readers alike, was a surprise bestseller earlier this month, selling out on Amazon, and is still hovering among the top recommended reads.
Co-editor Amy-Jill Levine, a Vanderbilt University Bible scholar, says the book, which puts the writing and writers of the New Testament into a Jewish context, has led already to substantial conversations between Jews and Christians, including seminars and high-profile interfaith meetings.
This caps at least a decade of mutual Christian and Jewish outreach, during which The Institute for Christian and Jewish Studies in Baltimore sponsored an event that led to what Professor Levine calls a remarkable statement, entitled "Speak Truth" and signed by nearly 170 rabbis and Jewish professors.
The document, first published in The New York Times, affirms eight major areas of agreement between Christians and Jews, including the assertion that both accept the moral principles of the Torah, both seek authority from the same book and both believe in the same God.
---