'The Hobbit' trailer: 5 signs that Peter Jackson is back to his best
'The Hobbit' trailer is a testament to the best qualities of director Peter Jackson's filmmaking, from weaving together various J.R.R. Tolkien tales to the signature look of the film.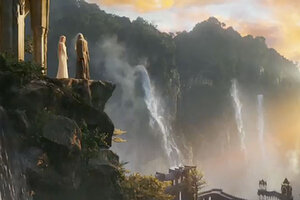 YouTube
The "Hobbit" trailer appears to have met some key objectives: getting fans buzzing, dangling some juicy details from the film, and leaving viewers anxiously in the dark about some other big questions.
In short, the suspense and anticipation has grown. Director Peter Jackson has struck again.
Mr. Jackson released the trailer for "The Hobbit: An Unexpected Journey" on Wednesday. The film is scheduled for release a year from now, to be followed a year later by a concluding installment, "The Hobbit: There and Back Again."
In teasing the movie, the trailer is also a reminder of the artistry that Jackson (aided by a horde of other on- and off-screen talents) used to thrill millions of moviegoers when he released three other films drawn from the pages of J.R.R. Tolkien – the "The Lord of the Rings" trilogy.
Not everyone loves fantasy movies. And even Tolkien fans don't all love every decision Jackson is making about "The Hobbit." But the director has undeniably honed his storytelling craft in this genre.
A few examples:
---