Dog survives Montana avalanche, returns after four days
A Welsh Corgi, named Ole, was lost in a Montana avalanche Saturday. Four days later, the loyal dog arrived back at the motel where his owners had stayed.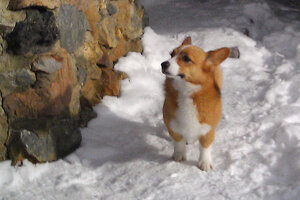 (AP Photo/Natasha Baydakova)
A dog that was feared dead after he was swept away in a weekend avalanche that killed his owner showed up four days later at the Montana motel where his owners had stayed the night before going backcountry skiing.
Search and rescue team member Bill Whittle said he was "positive" that the Welsh corgi — named Ole — had been buried in Saturday's avalanche. Dave Gaillard died in the avalanche and the team thought that Ole had died too.
"The avalanche guys were up there on Monday investigating and they were looking for the dog too and never saw any signs," he said.
But on Wednesday, loyal Ole showed up exhausted and hungry back at the motel, four miles from where the slide occurred, the Billings Gazette reported.
"When I first saw the dog, it was sitting in front of their room staring at the door," Cooke City Alpine Motel owner Robert Weinstein said in an email to The Associated Press on Thursday.
Dave Gaillard of Bozeman was skiing with his wife when the avalanche struck near Cooke City, an old mining town just outside Yellowstone National Park. Kerry Corcoran Gaillar told the Bozeman Daily Chronicle that her husband's last thoughts were for her safety.
"His last words to me were, 'Retreat to the trees.' I think he saw what was coming from above, that I did not see. That reflects Dave's amazing quality — thinking of others," she said.
Search and rescue personnel saw no sign of Ole at the site, and it was thought he had been buried in the slide. But if Ole was buried, he managed to dig his way out and then walk four miles on stubby legs back to Cooke City in temperatures that dipped into the teens at night.
Gaillard's daughter, 11-year-old Marguerite, was putting photos of Ole on poster board as a memorial Wednesday afternoon.
---