Modern romance: Gen-Y is late to the wedding, but wants marriage
Gen-Y is is rewriting modern romance as the path to marriage gets longer but more certain: Young people want more certainty before the wedding.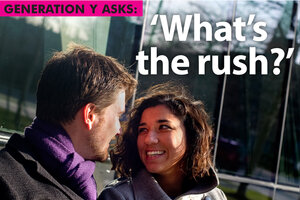 Ann Hermes photo
When Amy Monticello and Jason Tucker got married, it wasn't the passionate act of two people who'd fallen madly in love. It was a far less romantic mix of love, legal protections, and health insurance. They met in graduate school, dated for a while, and began staying over at each other's apartments.
"We were spending so much time together it just seemed silly to pay two rents," says Ms. Monticello. So the two moved in together in 2006, but she says she was wary: "I think I saw living together as a test run, in a way."
Four years later Monticello, age 29, and Mr. Tucker, 30 – both writers who teach at Ithaca Col­lege, in Ithaca, N.Y. – chose to marry because it gave their relationship legal certainty and other benefits, like next-of-kin status, community property protection, and the ability to share health insurance.
Much of Monticello's ambivalence about marriage, she says, is the result of her childhood in the 1980s and '90s spent watching her parents and their friends contribute to the highest divorce rates in US history.
---