Whitney Houston: a singing sensation silenced too soon
Whitney Houston, who died tragically Saturday in Los Angeles, was a child of the African-American church and a trailblazer for black female singers. Whitney Houston, some say, had a 'once-in-a-generation' voice.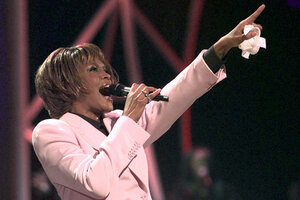 Kevork Djansezian/AP/File
Sunday's Grammy Awards opened with heads bowed in prayer for singer Whitney Houston, whose sudden death on Saturday at a Los Angeles hotel rocked the music world. "We had a death in the family." intoned Grammy host LL Cool J.
It was a fitting tribute, given that Houston was a child of the African-American church long before she was a world-class superstar, says Crystal Lucky, a church pastor and director of the Africana Studies program at Villanova University in Philadelphia. The young singer's mother, Cissy Houston, is a gospel singer, and the young Whitney was surrounded by female singing mentors who had also emerged from the church – such as her cousin, Dionne Warwick, and her godmother, Aretha Franklin.
These church connections are not unusual for many black entertainers, but what they say in the case of Whitney Houston in particular "is that she could sing, I mean really sing," says Ms. Lucky. Back in the 1970s, when Houston was coming up, "most churches did not have complicated organs with large media-production boxes that could make anyone sound great. It was you and your voice," she says. "You were really very vulnerable." While the audiences were loving and supportive, nonetheless "they knew who could and could not sing," Lucky says.
---