'Diddy' as TV mogul? Why new network could face steep challenges.
'Diddy,' a.k.a. Sean Combs, will head one of four new minority-owned networks on Comcast. But with the TV landscape changing, 'Diddy' will have to do something special to stand out.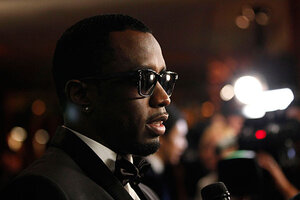 Mario Anzuoni/REUTERS/File
Earvin "Magic" Johnson and Sean "Diddy" Combs are national celebrities, but they face steep challenges as they try to establish successful cable networks, media analysts say.
Cable provider Comcast announced Tuesday that it will carry four new channels, each headed by a minority owner – Mr. Johnson, Mr. Combs, director Robert Rodriguez, and Spanish-language TV veteran Constantino "Said" Schwarz.
When Comcast acquired NBCUniversal last year, it made an agreement with the FCC to diversify the cable landscape. The four new offerings were chosen from among 100 proposals. Johnson's "Aspire," scheduled to start this summer, will be the first to launch, followed by Combs's "REVOLT" in 2013, and Mr. Rodriguez's "El Rey" the year after. The fourth, "BabyFirst Americas," will be aimed at infants, very young children, and their parents.
The four channels will need to carve out their own niches in a minority media landscape already dominated by BET (Black Entertainment Television) and Univision, analysts say. Big, recognizable names and good intentions are not enough. Oprah Winfrey's OWN Network, launched last year, is struggling, for example.
---