At 2012 Academy Awards, 'The Help' appeals across party lines (+trailer)
Sometimes Republicans and Democrats have different film tastes. Last year, it was "True Grit" vs. "The King's Speech." But this year, Americans across party lines are enjoying "The Help," the film about African-American maids during the civil rights era, a Christian Science Monitor/TIPP poll shows.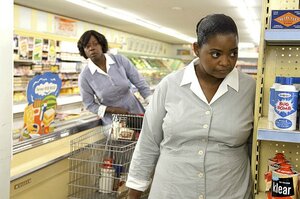 Dale Robinette/Disney/AP
As speculation heats up about who will take home the golden statuette for best film at this year's Academy Awards, it turns out there is bipartisan support for "The Help" as this year's frontrunner.
In The Christian Science Monitor/TIPP poll of preferences by party affiliation, the film about a group of African-American maids in the Deep South who turn the tables on their white employers during the civil rights era appeals across party lines.
This is in distinct contrast to last year's results, says pollster Raghavan Mayur, president of TechnoMetrica Market Intelligence, who notes that "in 2011, Democrats voted for 'The King's Speech' and Republicans went for 'True Grit.'"
"The film is a good Rorschach test because it's sufficiently complex to allow almost everyone something to identify with," says Robert Thompson, an expert on popular culture at Syracuse University in New York.
The subject matter – race relations during a turning point in American history – is something that touches everyone, he notes. "But the things people pull out are going to be very different, so while there may be wide appeal, there will not be agreement necessarily about what that appeal actually is."
In Alabama, political science professor Natalie Davis, who teaches at Birmingham-Southern College, went to see "The Help" at a suburban movie theater.
---