With Oscar winners 2012, Hollywood stays in its comfort zone
Nostalgia and historical fare carried the day at Sunday's Academy Awards. 'The Artist,' a black-and-white silent film celebrating Hollywood history, topped the list of Oscar winners 2012.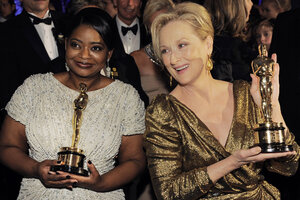 Chris Pizzello/AP
The 84th annual Academy Awards Sunday night was an exercise in comfortable nostalgia.
From the return of well-liked host Billy Crystal, for his ninth tour of duty, to the sweep of the ceremony's top awards by "The Artist" – a black-and-white silent movie celebrating Hollywood history, which won for Best Actor, Best Film, and Best Director – the evening tripped heavily down memory lane.
Veteran actors such as Christopher Plummer and Meryl Streep, who was up for her 17th nomination and took home her third statuette, lent to Tinseltown an aura of timelessness.
"My feeling is we live in a time where looking forward is very discomfiting," composer Charles Bernstein said by cellphone as he mingled his way from the ceremony to the Governor's Ball on Sunday night. "So we are looking backwards, and frankly nobody does that better than the movies."
The music of this year's Best Film nominees underscores his point, he says. "All the film scores are like musical time machines," says Mr. Bernstein. Whether set in 1929 Hollywood, Paris in the early 20th century, the cold-war era, or World War I, he notes, "they took us back to other times and places."
---