Los Angeles Times joins the crowd, erects pay wall for the news online
The Los Angeles Times is offering a wide range of online subscriptions. But will pay walls save ailing print newspapers or just guarantee their ultimate demise?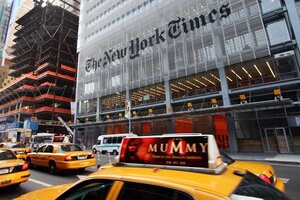 Mark Lennihan/AP/File
The Los Angeles Times on Monday joined a growing number of newspapers who are asking consumers to pay for what they have been getting for free: content on the website.
Southern California newshounds who want more than their 15 free online articles per month can get a one-month trial for the discounted price of 99 cents. After that, they can choose from a menu of options, including a digital-only plan for $3.99 per week and, interestingly, one for only $1.99 a week that includes all digital access plus the Sunday print paper.
Two years ago, The Wall Street Journal was the only major newspaper with a digital pay model. A year ago, The New York Times began charging online customers for access if they read more than 20 articles a month.
Momentum is building behind this source of revenue for ailing newspapers. Other individual newspapers such as The Boston Globe have jumped on the bandwagon, and the Gannett newspaper chain has just announced that it will put some 80 of its community newspapers around the country behind a pay wall by the end of 2012.
There are enormous financial pressures driving this experiment with pay walls, points out Mark Jurkowitz, from the Pew Research Center's Project for Excellence in Journalism. A study released Monday of some 13 companies that own 330 print dailies shows that for every seven dollars lost in print advertising, the newspapers are only picking up a dollar in digital revenues.
---