Bath salts: police and hospitals befuddled by new drug craze
Bath salts are a synthetic powder that acts like cocaine and can be bought over the Internet or in some convenience stores. Hospitals and drug experts are trying to play catch-up.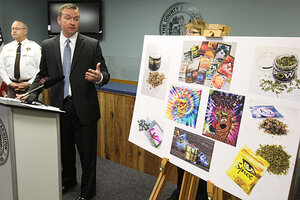 John Badman/The Telegraph/AP/File
A new and dangerous class of synthetic drugs is emerging on the American landscape, bedeviling law enforcement and baffling parents and families.
Known euphemistically as "bath salts," they are chemical concoctions that are sold over the Internet or on convenience-store shelves under names like "Purple Wave," "Zoom," or "Cloud Nine."
Researchers say the effects of bath salts are similar to those induced by cocaine or LSD, but emergency rooms – unfamiliar with the drug – really don't know what they are dealing with, say experts. Recent incidents include a Pennsylvania man in possession of bath salts who attempted to rape a store clerk and four college students in Grand Rapids, Mich., who took bath salts and had to be rushed to the hospital.
Similarly, a New York Times report cites "a man in Indiana who climbed a roadside flagpole and jumped into traffic, a man in Pennsylvania who broke into a monastery and stabbed a priest, and a woman in West Virginia who scratched herself 'to pieces' over several days because she thought there was something under her skin."
In response to the problem, the US Drug Enforcement Administration on Oct. 22 banned three substances often used in bath salts, but the challenge is an ongoing one, says Rutherfoord Rose, director of Virginia Commonwealth University's Virginia Poison Center in Richmond.
---