'Bully' movie to be released 'unrated.' Will that allow more kids to see it?
Because of crude language, the award-winning movie 'Bully' was initially given an 'R' rating. But the documentary is being released 'unrated' in the hopes of reaching its target audience.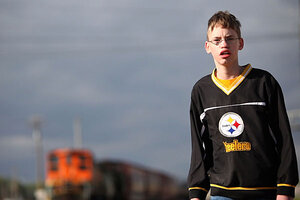 The Weinstein Company/AP
The award-winning documentary "Bully" will open in theaters Friday as "unrated."
The movie, which tells the stories of five children and their families, had been given an "R" rating by the Motion Picture Association of America (MPAA). The rating was publicly challenged by Katy Butler, a bullied high school student from Michigan, who launched an online petition at Change.org that garnered the signatures of 500,000 people.
But the MPAA refused to change the rating, unless several bursts of crude language were removed. Katy argued that such a rating was likely to prevent viewing by the very people she says need to see it most.
In the end, the film's distributor, the Weinstein Co., decided to release the film without a rating – an option open to any producer or director.
To have taken out the offensive language, say Katy and some bullying experts, would have sanitized an activity that needs to be held up for what it is.
"If you are going to tell a story about slavery, you are going to mention lynchings. If you talk about the Holocaust, you have to see the reality of the death camps," says Charles Williams, director of the Center for the Prevention of School-Aged Violence at Drexel University in Philadelphia. "There aren't too many polite bullies. This is an example of where you leave in the reality so it can have its intended effect. Otherwise you wash it out and have an inauthentic film."
---