'Bachelor' show discrimination? Why prime time TV is whiter than in 1976.
'Bachelor' show discrimination is at issue in a lawsuit that alleges the ABC program sought to exclude minorities. But 'The Bachelor' isn't alone in being predominately white.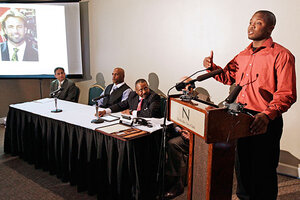 Mark Humphrey/AP
The class-action lawsuit filed in US District Court yesterday – alleging that ABC and producing companies have intentionally excluded people of color from lead roles on "The Bachelor" and "The Bachelorette" – has reopened the issue of diversity in broadcast television.
Events such as the shooting death of Trayvon Martin have served as a backdrop for broader questions about whether America has come as far on racial equality as many would have hoped. Wednesday's lawsuit puts that spotlight on Hollywood.
To be sure, strides toward racial equality on TV have been made, experts say. But these advances are not as big – or as long-lasting – as many hoped.
---