Fatal accident rate for US children and teens plunges since 2000
Nationwide, the rate of unintentional deaths for children and teenagers fell 30 percent between 2000 and 2009, a recent report finds. Biggest reason: fewer fatalities per capita due to auto accidents.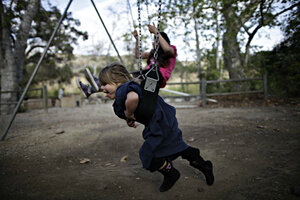 Lucy Nicholson/Reuters
Fewer of America's youths are dying by accident.
The rate of unintentional injury – the No. 1 cause of death for children and adolescents ages 1 to 19 in the United States – plunged nearly 30 percent in the past decade, according to a recent report from the Centers for Disease Control and Prevention (CDC).
"Kids are safer from injuries today than ever before," said CDC Director Thomas Frieden in a statement that coincided with the release of the CDC's Vital Signs report. "In fact, the decrease in injury death rates in the past decade has resulted in more than 11,000 children's lives being saved."
The biggest improvement occurred in auto travel, which the CDC attributes to increased use of seat belts and booster seats, tougher driver's license requirements, and safer vehicle design over the 10-year study period. But most causes of unintentional injuries and death in children, such as drowning, burns, and falls, also registered significant declines.
Overall, the accidental death rate for those below the age of 20 dropped to 11 deaths per 100,000 individuals in that age range in 2009, from 15.5 per 100,000 in 2000, the report found. In 2009, about 9,000 children and teens died nationwide as a result of accident.
---