Time breast-feeding cover: On parenting, can we all get along?
Parenting trends – including 'attachment parenting' – come and go, but fervent debate about tactics is rooted in widespread parental insecurity and the so-called middle class 'mommy wars.'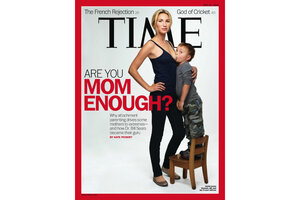 Time
America got together this week on the national playground to talk mommies, breastfeeding, and good parenting. Time and their cover model-mom, Jamie Lynne Grumet, made sure of that, as the pretty, hand-on-her-hip mom looked out from supermarket magazine aisles, her near-4-year-old son standing on a chair, attached to her breast with his mouth, while Time asked, "Are you mom enough?"
The peculiar intimacy portrayed, the size of the child, and questions about whose needs are really being met in the Grumet family set off a fervent debate in a country that ranks 36th among industrialized nations when it comes to breast-feeding, and where "normal" parenting is hard to define because of America's cultural diversity.
Is this good? Some say the picture helps to normalize breast-feeding and the idea of "attachment parenting," which means extended breast-feeding, co-sleeping, and refraining from using the word "no," ideas espoused by best-selling parenting book author William Sears, whom Time suggests "remade motherhood." (The philosophical underpinnings of attachment parenting actually date back to the 1950s.)
Is it bad? Some say the picture itself, more than the idea of what some would call over-attentive parenting, is an example of parenting gone badly wrong. "This is self-centeredness at its worst, sold as good parenting," writes Keith Ablow, a psychiatrist, on Fox News.
---