Did Time sexualize breastfeeding with its 'Are you mom enough' cover?
Time cover-model Jamie Lynne Grumet intended to portray extended breastfeeding as normal. But many thought the controversial picture of Ms. Grumet and her son sexualized the relationship.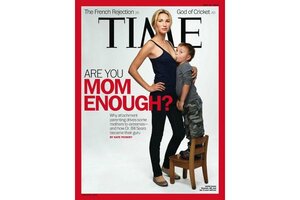 Time/AP
What would Sigmund Freud say about Time magazine's provocative breastfeeding cover picture showing a 20-something mom, hand on hip, as her large son suckles?
The famous psychiatrist posited in 1905 that weaning a child either too early or too late could lead to destructive oral fixations in adulthood. He also wrote about the Oedipus complex, where a son's attraction to his own mother could lead him to want to kill his father.
While Freud's ideas have been challenged and even debunked over the years, his theories about human development certainly underpin a widespread backlash to the picture, which illustrated a story about "attachment parenting" where parents sleep with their children, coddle them before they cry, and, sometimes, extend breastfeeding into kindergarten.
Are you a Helicopter Parent? Take our quiz!
To be sure, even some breastfeeding advocates took issue with the picture, especially Grumet's challenging, hands-on-hip pose and the boy's quizzical peek at the camera as he's attached to his mom.
But those who know Grumet say she's a great parent whose children – she also has an adopted son from Ethiopia – are well-adjusted and not clingy.
---