Veterans' new fight: reviving inner-city America
How some veterans of the wars in Iraq and Afghanistan are helping turn around a drug-infested neighborhood of Baltimore – and themselves.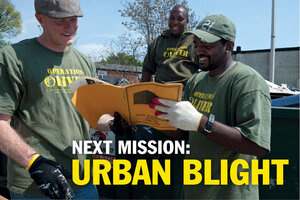 Joanne Ciccarello/Staff
It's a hot Sunday morning in Oliver, a blighted Baltimore neighborhood, and Dave Landymore is filthy. Two decades of basement dust cling to his jeans as the former Marine platoon sergeant hauls boxes of old baby things down the sidewalk to a giant dumpster.
They come from a house on Holbrook Street, known here as "Hellbrook." Once a feared hub of the city's drug trade, it has been Carolyn Lawson's home as she raised three children and cared for seven grandchildren. Now, though she struggles to walk, she is desperate to stay in her house. But it needs urgent repairs that the city won't make under a weatherization program until her basement is emptied of decades' worth of storage.
Mr. Landymore and a dozen other volunteers working at Mrs. Lawson's this morning are part of a veteran-led effort called Operation Oliver. Since October 2011, the group has been cleaning up trash and helping residents across the largely poor, African-American neighborhood. Along blocks dotted with boarded-up homes, where drug dealers run the corners at night, veterans are applying lessons they learned in Iraq and Afghanistan in an effort to restore the community's sense of pride – and their own sense of purpose.
"This group is my life," says Landymore, who joined the project in September and has built his post-Iraq world around it. "It's something that I'd been looking for."
As the United States ends long occupations in Afghanistan and Iraq, some 200,000 service members each year are making the transition back to civilian life. Coming home from war has never been easy, for soldiers or society, and today's veterans face particular challenges, from the unprecedented number who suffered brain injuries in combat to the unforgiving economy that is waiting for them. But they also have particular strengths: They are an altruistic generation that volunteered to serve, many of whose members worked overseas rebuilding broken communities. Now, they're bringing that spirit home, and many are searching for ways to express it in their civilian lives.
---