Holy matrimony, Batman! Are comic books legalizing gay marriage?
Gay characters and gay marriage, even among superheroes, are cropping up in the comic book universe, in what one artist calls an attempt 'to be current.' The reaction, predictably, is mixed.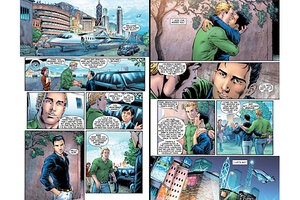 DC Entertainment/AP
While political pressure steadily mounts on the issue of gay marriage – President Obama was in Hollywood Wednesday night for two LGBT fundraisers – comic books, that canary in the mine of popular culture, are pushing the envelope on depictions of gay life further this summer.
Marvel Comics offers the first gay super-hero marriage proposal in its June issue of the "Astonishing X-Men." A character known as Northstar, aka Jean-Paul Beaubier, a Canadian with silver-streaked black hair, piercing blue eyes, and the ability to fly and move at superhuman speeds, asks his long-time boyfriend Kyle Jinadu to tie the knot. DC comics also did a June reboot of the Green Lantern character, introducing a gay version from an alternate universe.
Comics put a toe in this water earlier this year when Archie comics featured Kevin Keller ­– merely a US soldier with no super powers – marrying his African-American boyfriend in an issue that sold out by March.
"We were trying to be current," says Paul Kupperberg, the writer who created the Archie issue. "This is what our society looks like, and Riverdale [Archie's fictional hometown] is an inclusive place." [Editor's Note: The original version misstated Mr. Kupperberg's role in the Archie issue.]
Comic books have long been a mirror for society, points out comic book historian Julian Chambliss, who just presented a paper on teaching with comics at a conference on that topic at Juniata College in Huntington, Pa.
---