Tony Awards put Broadway's booming box office on display
The Tony Awards showed theater's freshness and creativity, but rampant Hollywood stars and high ticket prices are making Broadway less accessible to the masses, say critics.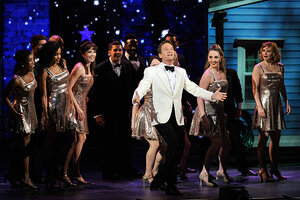 Charles Sykes/Invision/AP
The Tony Award show may have been down about 1 million viewers from last year, but it also offered encouraging signs about the state, health, and direction of American theater. Hand-in-glove with those positives, however, are some weaknesses and – as every year – some bewildering anomalies, say analysts and critics.
First on the good side. Broadway set a box office record without a centerpiece, must-see hit – such as last year's "The Book of Mormon" – that drove attention to the Great White Way. That record could be due to soaring ticket prices, say some, as "Death of a Salesman" set a new high-mark for the highest ticket price ever charged ($499, beating out $480 from "The Producers" in 2001).
Producers admitted they upped the premium price after noticing that premium tickets were being sold in blocks to Connecticut and New Jersey zip codes – a sign that brokers were snapping them up in bulk and marking them up on websites, where a final performance ticket went for $1,600.
That shows demand is very high as long as the production is first rate.
Also on the good side – at least, according to some – is the influx of top-grade Hollywood talent, from Phillip Seymour Hoffman to Hugh Jackman.
---