The online bully: less prevalent in US than many other places in world
A survey of children and teens in 25 countries found 24 percent say they've engaged in behaviors online that are often considered to be bullying. For the US, the figure was 13 percent.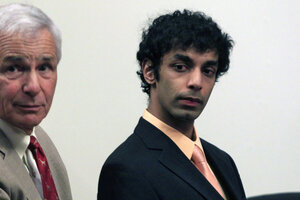 Mel Evans/AP/File
American students don't always stack up well in global comparisons, but a new survey suggests they're ahead of many of their peers worldwide in learning about online bullying in school – and refraining from it.
Thirteen percent of children and teens surveyed in the United States said they'd engaged in behaviors online that are often considered to be bullying – such as meanness, teasing, and unfriendly treatment – compared with 24 percent around the globe; 29 percent have been the target of these behaviors, compared with 37 percent globally; and 52 percent in the US say their school provides education about online bullying, compared with 37 percent globally.
Microsoft commissioned the Global Youth Online Behavior Survey and received responses from more than 7,600 students ages 8 to 17 in 25 countries. It released the data this week, along with online tools to help kids and parents talk about online bullying.
More than half the students worldwide – 54 percent – say they are worried about online bullying, and 50 percent say their parents talk with them about online risks. But only 30 percent of parents ask their children if they've been bullied online, the students report.
Students around the globe say they experience far more bullying in person than they do online, but concerns have been growing that it can sometimes be more hurtful to bully someone using technology – because information spreads more rapidly and remains visible for so long, or because attacks can be made anonymously and at all hours, day or night. Much of the online bullying has been happening without parents' awareness or knowledge about how best to intervene.
---