Presbyterians reject call to divest over Israel's West Bank occupation
By a two-vote margin, the Presbyterian Chuch (U.S.A.) declined Thursday to divest funds from three firms whose products help Israel enforce occupation of the Palestinian West Bank. Pro-Israel Jewish groups had warned against such a step.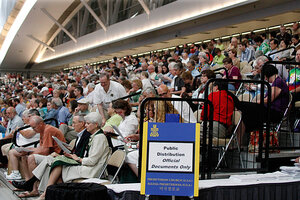 Keith Srakocic/AP
By the thinnest of margins, the Presbyterian Church (U.S.A.) on Thursday joined other mainline Protestant denominations in rejecting a call for divestment from companies whose products help enforce Israel's occupation of the Palestinian West Bank.
The 333-to-331 vote at the PCUSA's General Assembly in Pittsburgh averted a showdown with Jewish groups, who had warned divestment could have had a chilling effect on interfaith dialogue. It also aligned the 1.9 million-member PCUSA with the United Methodist Church and Evangelical Lutheran Church in America, which have rejected divestment efforts in their respective denominations. Each has opted instead to pursue "positive investment" in Palestinian enterprises.
Proponents of divestment wanted the PCUSA to drop the church's $20 million combined stake in Caterpillar, Motorola Solutions, and Hewlett-Packard. The vote capped eight years of talks with the companies, which activists say were unsuccessful.
---