Study: With OxyContin harder to misuse, abusers shift to harder drugs
A reformulation of OxyContin that makes the pills harder to crush or dissolve has led to less abuse, a new study finds. But abusers turned to more potent opioids, including heroin – evidence that demand is what most needs tackling.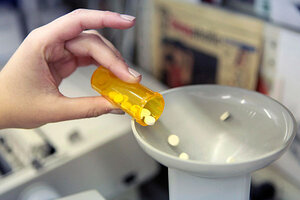 Lucas Jackson/Reuters/File
The OxyContin craze that swept America beginning in the early 2000s appears to be fading, thanks to a reformulation of the pills that deters recreational users from abusing them. The bad news is that almost all illicit users of OxyContin have switched to more potent medications – and to heroin.
Those are the unanticipated results of a new study, and they underscore the challenges inherent in dealing with drug addiction, says Theodore Cicero, a professor of psychiatry at Washington University in St. Louis and one of the study's authors.
Cutting off the supply of illegal drugs, he says, is a worthy goal, but to make a real dent in addiction, a comprehensive approach that addresses demand for drugs is needed.
"There is a percentage of the population that is going to, that wants to, use and abuse drugs. The treatment of the problem can't just be focused on the drugs they're taking," says Dr. Cicero. "If there's a demand there, it will be met."
To try to eradicate abuse of OxyContin, a prescription painkiller, Purdue Pharma in August 2010 changed the pill's formula. OxyContin contains oxycodone, derived from the opium poppy, and some illicit users had been crushing and snorting pills or dissolving the tablets to inject the drug, which delivers a heroin-like high. The new formulation makes it harder to do that.
---