Chicago: A gang shooting, a stray bullet, an innocent victim
A second-grader's shooting death turns anguish into anger for the unwitting victims of Chicago's homicide epidemic. With schoolchildren caught in the gang crossfire on the Windy City's mean streets, parents say the only option they have is to keep their children home.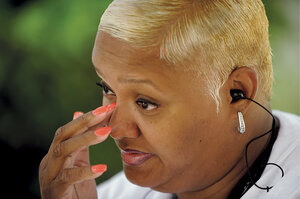 Paul Beaty/Special to the Christian Science Monitor
Only eight blocks separate the home of Heaven Sutton, the second-grader killed June 27 by bullets meant for someone else, and the home of the man charged with shooting her – and between the two stands a gang-riddled neighborhood that both sets of traumatized parents say poses far too many dangers.
This is Austin, a community of brick two-flats and block-shaped apartment buildings on Chicago's West Side, where unemployment is endemic and almost 3 in 10 residents live in poverty. Heaven had lived here with her mother and three older brothers for only 10 months. Jerrell Dorsey, charged with her murder, grew up nearby, in the modest bungalow where his family has lived for 26 years.
Heaven is not the only child to be killed by errant gunfire on the mean streets of Chicago. In the past school year, 24 students were killed and 319 wounded in shootings, police reports show. But the circumstances of her death – she was shot at a candy stand her mother had set up on the front lawn outside their two-flat – have sparked more than the usual muffled cries of anguish. Reports that the gunfire was a gang shooting elicited Mayor Rahm Emanuel's first public comments about the city's mounting homicide count.
"This is not about crime. This is about values," he said in a tongue-lashing aimed at the perpetrators.
Heaven's mother, Ashake Banks, appreciates the mayor's personal involvement in the case. "I love him. I really do," Ms. Banks says, standing under the tent of the former candy stand that, filled now with stuffed animals, messages, balloons, and photos, has become a public shrine in Heaven's memory.
Banks characterizes the gang members in this area as "baby thieves" and says the police "need to stop those predators from taking these lives."
She is filled with regret about moving to Austin. But she had lost her job as a beautician, and a friend of her brother's invited her to move into a building he owned. Despite her reservations about moving her children to a neighborhood she knew was violent, Banks says she reluctantly accepted.
---