Colorado shootings likely to change movie going experience indefinitely
In the wake of the Colorado theater shootings, many movie chains have changed their security policies. No masks, fake weapons, or backpacks. But would theater-goers accept metal detectors?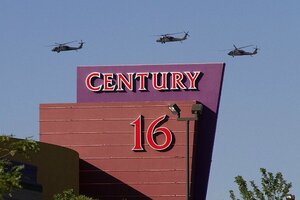 Barry Gutierrez/AP
One of the worst mass shootings in US history wreaked havoc on the lives of those who live in Aurora, Colo., where a gunman killed 12 people early Friday morning at a multiplex theater. The murders are also expected to impact the movie going experience indefinitely.
Since news broke that James Holmes, a doctoral student in neuroscience, allegedly shot 70 people in a midnight screening of the popular Batman franchise, many theater chains issued statements changing their security policies. For example, AMC Theatres said face-concealing masks or fake weapons would not be allowed. Classic Cinemas, a chain in Northern Illinois, issued an open-ended ban on backpacks "or other large bags" as well as masks.
More changes are expected. The National Association of Theatre Owners, a trade group in Washington representing over 30,000 theater screens in the US, issued a statement Friday that its members "are working closely with local law enforcement agencies and reviewing security procedures." Many national theater chains announced increased security personnel starting this weekend and said they were examining their policies for possible changes.
Colorado shooting: Picture emerges of chaotic scene, suspect James Holmes
---