Gore Vidal: a celebrity, a life writ large
Gore Vidal was known as much for his fierce public spats as he was for collected works that included 25 novels, 200 essays, six plays, several screenplays, and a National Book Award for essays on the United States.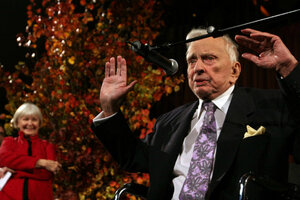 Tina Fineberg/AP/File
Gore Vidal, who died at his Hollywood home Tuesday, is being remembered for his keen skills as a novelist, essayist, screenwriter, and provocateur as well as a bundle of apparent contradictions: prickly outside, warm and cuddly inside when not putting on airs. Critic Adam Goodheart summed up the contradictions when he wrote that Vidal was "ironic, cosmopolitan, erudite, a sexual non-conformist with a superbly honed sense of envy who needs to be both gate-crasher and guest of honor at every party."
Known for his searing public feuds, Vidal also could be disarmingly polite and smooth, drawing in people at gatherings with a kind of "well-WE-know-this-and-others-don't" charm. His lifelong scorn for intellectual and cultural barbarism took on added venom in later years with personal loss and painful mobility that he could dismiss with a devilish wink.
He authored 25 novels, six plays, 200 essays, and several screenplays. An early novel, "The City and the Pillar," and a later sexual farce, "Myra Breckinridge," were credited with pushing the envelope of sexuality in modern literature. His historical novels, ranging from the Roman Empire ("Julian") to the birth of the American republic ("Burr"), garnered wide respect among historians, and his "United States: Essays 1952-1992" won the 1993 National Book Award.
Vidal famously called conservative icon William F. Buckley Jr. a "pro-crypto-Nazi," got sued for it, and apologized to the judge by saying: "It was a modest slip of the tongue, I was searching for the word 'fascist.' " Besides his famous jibe-fests with Buckley and Norman Mailer, who once head-butted him backstage, Vidal was well-known for championing literary causes and education, which he said at length were on the decline in the US.
---