Pussy Riot sentenced: Is chorus of support helpful, or just fashionable?
Cities across the US took part Friday in Pussy Riot Global Day, but it's not clear whether the support, from governments and celebrities, will help members of the feminist punk group who were sentenced to prison for criticizing Vladimir Putin.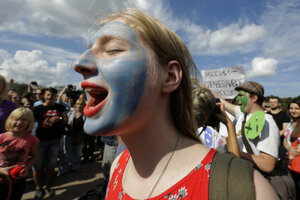 Dmitry Lovetsky/AP
In the weeks before Pussy Riot band members were sentenced to two years in a Russian prison, the feminist punk group's plight had become a global cause, attracting activists and celebrities alike.
But some are already starting to question whether the outpouring of support for Nadezhda Tolokonnikova, Marina Alyokhina, and Yekaterina Samutsevich is little more than a star-studded fad – and if it can do anything tangible to help them.
Following the guilty verdict handed down Friday in Moscow, cities across the United States took part in Pussy Riot Global Day, with demonstrators donning colorful ski masks, or balaclavas, in solidarity with the band. Following small gatherings in New York and Washington, events are planned in San Francisco, Minneapolis, and Moscow's sister city, Chicago.
Pussy Riot was convicted of "hooliganism motivated by religious hatred" for singing a song lambasting Russian leader Vladimir Putin's increasingly autocratic hold on power – and his regime's increasing suppression of protest speech – from the altar of Moscow's Christ the Savior cathedral in February of this year. The band stormed the venue in protest of Mr. Putin's close ties with the Russian Orthodox Church.
---